What a difference 16 hours makes in the life of a New York Times headline about Palestinian violence.
Shortly after a Palestinian stabbed to death Israeli soldier Almog Shiloni yesterday outside a Tel Aviv train station, the straightforward headline was "Palestinian Stabs Israeli Soldier at Tel Aviv Train Station." The headline clearly identified the perpetrator (a Palestinian), what he did (stabbed), and his victim (an Israeli soldier).
The headline in today's International New York Times, an edition which has an earlier deadline, is consistent with the original, clear wording: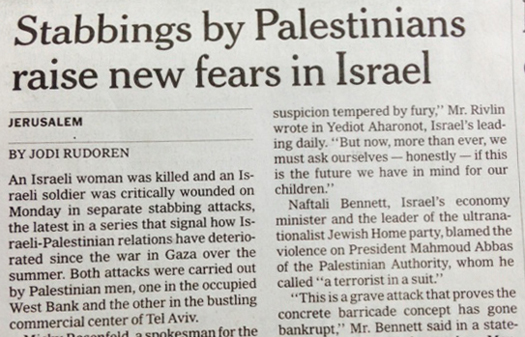 Apparently, the clear identification of a Palestinian as being responsible for a violent attack was uncomfortable for one or more Times editors.
The article's headline now appears online as:

This is also the headline that appears in print in the domestic edition of The New York Times, which has a later deadline than the international paper.
A glance at the Newsdiff site, which tracks changes made to news headlines, reveals the striking evolution of The Times headline. A snapshot of the Newsdiff log tracking the changes is below, with the newer headlines at the top:
The first, clearer headline is active ("Palestinian stabs"), while the passive language in the newest headline ("Palestinians are suspected") downplays Palestinian culpability. The first headline states as fact that a Palestinian was responsible for the stabbing. According to the latest version , Palestinians are only "suspected."
In the current headline, Israelis "die," they are not "killed," language which again downplays Palestinian responsibility for violence.
The headline isn't the only aspect of the story which underwent transformations which served to downplay Palestinian culpability for violence. The first paragraph of the international edition reports as fact that Palestinians were responsible for the two stabbings: "Both attacks were carried out by Palestinian men. . . "
In the later domestic edition, the fact that Palestinians carried out the attacks was downgraded to an Israeli assertion: "An Israeli soldier and a woman were killed on Monday in separate stabbing attacks that the authorities attributed to Palestinian men . . ."
What is the justification for The Times' caution in identifying the assailants as Palestinians? By yesterday afternoon, hours before editors inserted the term "suspected" into the headline, Islamic Jihad already claimed responsibility for the second deadly attack in which Dalia Lemkus, 26, was murdered. Regarding the first attack, Hamas spokesman Husam Badram readily attributed it to Palestinians, saying that the killing of soldier Almog Shiloni "reflects the tenacity of our people to resist the occupation and move against the crimes [committed] in al-Aqsa and in Jerusalem."
{Matzav.com Newscenter}