Richard de Chazal describes himself as "one of Australia's most respected haute-couture designers, make-up artists, stylists and photographers."
Perhaps he should be described as a vile Jew hater.
The popular Australian makeup artist and designer posted a vile antiSemitic caricature on his Facebook page:
This prompted NSW Jewish Board of Deputies CEO Vic Alhadeff to publicly condemn the post:
NSW Jewish Board of Deputies CEO Vic Alhadeff condemned the post: "The cartoon and accompanying text are vile and bigoted. As for the law in question, no law can effectively stop people hating you; however, the law can and should stop people inciting violence against you.

"We thank the State Government for introducing this vital piece of legislation to ensure the safety of the people of NSW, and we applaud the state parliament for passing it unanimously."

Alhadeff is referring to the laws passed in NSW making it a personable offence to make public threats or incitements to violence made on the basis of race, religion or sexuality.
But de Chazal's antisemitism has been manifest for quite a while now
Which explains why he is genocidal when it comes to Israel.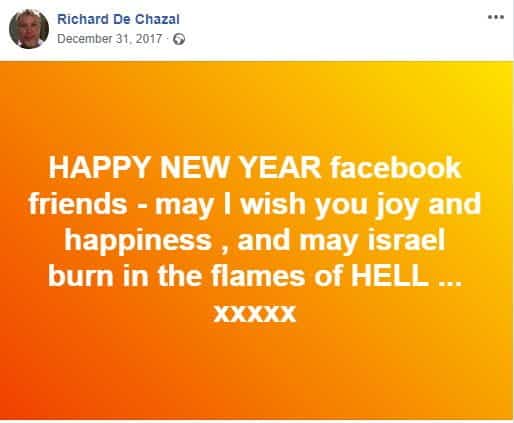 And has a complete lack of compassion for murdered Israelis.
{Matzav.com}